Back when your organization first began using cloud services, did you realize this was the start of a gradual shift to a whole new business model — not just for your enterprise but for all enterprises everywhere?
These days, that gradual shift is being called digital transformation, and if you figured it was a one-off — i.e., implement "a solution" and be done — you were mistaken.
Actually, digital transformation is ongoing, a succession of technology waves that require continual adaptation of your digital architecture and your business strategy as you, your competitors, and everyone else moves into a cloud-first mode that includes working with two or more cloud providers — something that 81% of public cloud users say they're already doing.
What sort of cloud platform do you need?
The resulting can give you access to best-of-breed capabilities, help avoid vendor lock-in, make for more reliable disaster recovery, boost agility as well as availability and performance, and improve system monitoring and operational control.
To meet today's ever-expanding range of digital needs, cloud capabilities are available in many as-a-service flavors. Three of these have emerged as the on which major digital transformations are being conducted — what analyst firm Gartner refers to as "the cloud platform continuum":
Software as a Service (SaaS). Also called cloud application services, these are typically delivered to customers via a web browser as finished "products" and don't usually require client-side downloads or software installation.
Infrastructure as a Service (IaaS). Highly scalable and automated, IaaS offerings enable fully self-service accessing and monitoring of infrastructure-related capabilities like compute, storage, and networking and can be purchased on-demand and as-needed.
Platform as a Service (PaaS). By delivering a separate framework that's ready for application developers to use for app building and testing — and can be hosted on IaaS cloud infrastructure — PaaS reduces application development overhead.
Going native with PaaS
Of course, the more your organization confronts both the challenges and opportunities inherent in digital disruption and embraces the use of cloud platforms to improve competitiveness, the more you'll need to commit to digital architectures designed to natively deliver cloud experiences — i.e., with agility, speed, and continuous innovation.
Such cloud-native capabilities are best developed using a cloud-native platform — exactly what PaaS is designed to do.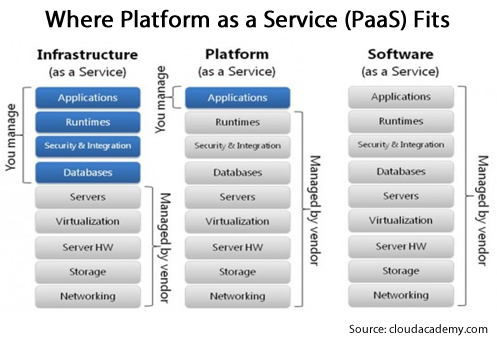 And once you decide that constructing your own cloud-native application development platform — including building and operating the entire application stack shown in the graphic above — is too complex and costly, you'll need to choose the Platform as a Service that's right for your enterprise.
In my next post, I'll examine what to look for when you do.
Contact us anytime about your technology needs.
Until next time,
Tim