A Guide to Disaster Recovery
What is Disaster Recovery?
The term disaster recovery (DR) refers to the tools, services, and planning that help protect an organization from a natural or manmade disaster. Disasters that cause unplanned downtime for your company can include everything from weather-related events such as fires, floods, and extreme snow to earthquakes, tornados, and hurricanes.
Your business could take a hit with an unexpected loss of power, hardware failure, software bug, corrupted data, admin error, or an act of cybercrime like hacking or ransomware. Or you might find yourself forced to close for a time due to a pandemic. Maintaining business continuity and recovering from disasters quickly and completely is crucial to keeping your business competitive. DR services are essential for preventing substantial losses.
Disaster Recovery Services
A typical organization depends on many different technologies to run its business. Disasters can affect any of these technologies, and a disruption to even a single service can have a major impact on your business. A comprehensive DR plan is essential to minimizing downtime and preventing data loss in the face of disaster.
Disaster recovery planning includes all the work done to assess your company's readiness to withstand such a disruption or crisis, as well as developing a targeted strategy to protect against disasters.
DR planning can consist of
data backups
failover and failback processes
high availability protocols
data protection
data loss avoidance solutions
In today's volatile global marketplace, these are vital.
According to TechTarget, "having a disaster recovery strategy in place enables an organization to maintain or quickly resume mission-critical functions following a disruption." And according to the National Archives & Records Administration in Washington, 93% of companies without DR go out of business within a year.
Disaster recovery plans include provisions for the protection of IT and network data, as well as the steps needed to ensure business resumes as quickly as possible. Organizations often choose secure, off-site data center locations and/or the cloud to store data and data backups as part of a DR strategy.
Does your business have a robust disaster recovery plan and solutions in place to efficiently restore your data and services and get you back on track quickly, or even avoid disruptions to your operations? Quest can help you with essential business continuity consulting, evaluating your current DR setup, developing a detailed disaster recovery solution from scratch, and providing comprehensive DR testing and defined solutions.
Business continuity describes your company's ability to continue its essential operations during and after a crisis. This can include business impact analysis, equipment, mission-critical functions, creation of recovery strategies, plan development, and regular plan testing and updating.
A strong business continuity plan (BCP) is essential for getting back to business after any disaster, be it a natural catastrophe, human error, or cybercriminal activity. It should direct your company's response to the initial crisis; address provisions for safeguarding your data, network, and staff; and outline what steps must be taken to quickly resume business operations.
If you need assistance building a BCP, Quest can help. We'll determine the scope and breadth of your BCP and identify primary business areas and connected dependencies. Our expert Business Continuity team will analyze your business-critical functions and evaluate your current infrastructure and business procedures. We'll work with you to calculate acceptable downtime and develop a strategic BCP that meets your company's specific needs.
Your BR plan covers the steps to resume business activity, or restore your business entirely, after a crisis. It focuses on preventative measures and the actions needed to resume business activities after the disaster.
In some BR planning, companies identify temporary work locations for staging business resumption until corporate headquarters and other offices or plants can reopen. Business Resumption Centers (BRC) allow you to resume operations quickly in a safe location. Many BRCs allow you to configure the space into the functionality you need, from private office space to command centers.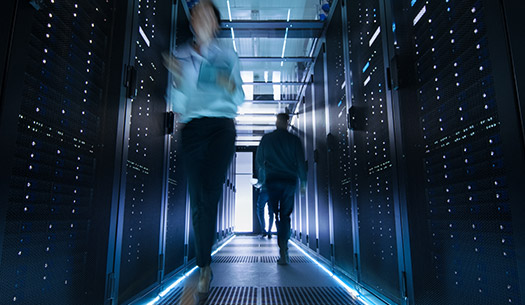 Data centers and co-location facilities can be used to get your data off the premises to a secondary site that houses IT equipment, stores data, and provides supplemental IT staffing expertise. Many organizations use data centers and co-location services as a cost-effective alternative to building and maintaining their own data centers.
With co-location, your company can house your servers and networking equipment in a third-party data center that offers customized cabinet and cage solutions, temperature control, and a highly redundant and resilient power supply. Co-location data centers can also provide contracted IT experts to monitor and troubleshoot issues.
Data centers and co-location facilities often house the backups of an organization's critical data and can be used during and after a crisis to ensure business continuity and resumption. Some data centers and co-location facilities are designed as service delivery centers and high-availability business centers for use as a temporary workspace during and after a disaster.
Quest offers flexible, customizable space for your data, equipment, and staff. Through our global network of leading-edge Service Delivery Centers (SDCs), Quest provides efficient, reliable, 24/7 power for your data and systems, as well as secure, temperature-controlled spaces in which they can reside.
Two of Quest's California sites, our High Availability Business Center (HABC) and Business Resumption Center (BRC), can yield security and high availability when you need it most. Both sites are SSAE 18; SOC 1, 2, & 3 compliant and situated in one of the most seismically stable and secure areas, located well above the floodplain, clear of any mudslides or forest fires, and far enough inland from extreme weather.
The HABC and BRC's open floor plans can be configured for private office space up to fully appointed command and control centers. The buildings are monitored 24/7 and feature robust infrastructure and network equipment. Your company can choose to use the HABC or BRC to establish a permanent onsite presence, as office space, or as a location for post-disaster business resumption activity.
Besides these California sites, Quest also has a network of co-location data centers across North America and beyond. Each of these is well-equipped to house your data and systems, and help you recover from disasters as well.
Disaster Recovery as a Service (DRaaS) is a cost-effective alternative to building and maintaining off-site infrastructure for disaster recovery. The best DRaaS solutions allow you to achieve RTO/RPO of less than 15 minutes—regardless of the storage, applications, or operating systems you use—and will offer this for either VMware vSphere or Microsoft Hyper-V environments.
DRaaS provides fast, secure, cloud-based disaster recovery in times of disruption or disaster. Your data is kept safe and secure in the cloud using advanced, image-based VM replication and a virtual cloud host for disaster recovery with CPU, RAM, storage, and networking resource allocation.
"They went truly above and beyond. I was astonished at the resources made available to us — it was phenomenal. More importantly, we now regard DR as a core component of everything we do."
- Assistant VP of IT Operations, Regional Bank
Quest Disaster Recovery Workshops
Quest's workshops and assessments help you to understand the purpose of a disaster recovery plan, and provide you with the opportunity to work closely with our certified IT experts to outline concerns, review and assess current plans or create new plans, and get intelligent recommendations tailored to your organization's needs.
These workshops and assessments can be conducted onsite at your location, virtually, or at Quest's headquarters in Roseville, CA.
For some organizations, working with an expert in disaster recovery and business continuity provides a starting point in the planning process. For others, bringing in DR specialists helps identify technical and business process gaps and define stakeholders, recovery teams, and the processes and functionalities needed for operation.
DR workshops can include a test and review of your existing disaster recovery plan, meaning we can help with customized recommendations or the development of a new DR plan that meets your company's current requirements. Disaster recovery specialists will help you define expectations from a data loss and recovery time perspective, establish acceptable downtime, and make recommendations that address compliance with regulatory agencies and industry standards.
Whether you are starting from scratch or looking for an expert opinion on your existing plan, DR specialists can help your company be dynamic, responsive, and recoverable after disaster strikes.
Working with a BC expert offers insights into your BCP, whether you are revisiting an existing plan or starting to build one from scratch. BC experts can help you determine the scope and breadth of your BCP and identify primary business areas and connected dependencies.
Consultants can work with your team to build a strategic BCP that meets your company's specific needs:
Start or enhance your strategy and emergency procedures
Form nimble recovery teams
Develop a communications plan to alert key stakeholder groups
Identify key business processes
Reconcile potential employee displacement
Plan for maintenance and testing
Create an active command center
Meet regulatory requirements
Prioritize and protect critical business processes that keep your business operating
Disaster Recovery Case Study
Early one morning, Joe Peyton, Assistant Vice President of IT Operations at California's Redwood Credit Union (RCU), got a distressing phone call from his CIO. Disaster was about to strike: a wildfire was threatening RCU's headquarters.
Peyton sprang into action and made critical decisions based on the Disaster Recovery and Business Resumption Plans that Quest helped put in place. As a result, the company's site was saved.
Peyton's firsthand experience with a disaster has since caused him to regard BC/DR as a core component of everything RCU does.
Disaster Recovery Insights
Blog
Why BC/DR Drives Business Resilience
Video
Disaster Recovery Workshop
Video
Co-location data center
Video
Quest High Availability Business Center
What's your situation? Quest can help, whether you need assistance with DR/BC planning or extending your business' availability.
Survive the unexpected and protect your business. Contact Quest today.